For those of you who are having trouble being cooped up indoors, try something fun, new and fresh by taking a crack at these home DIYs. Not only will you bring more life to your home with these improvements, but these easy home activities and maintenance tips will help add value to your home. Great ROI positive activity! Please let me know if you've tried any of them. I'd love to see pictures!
#1 Go Hard in the paint:
With the cool spring air upon us, it's a great time to open up a can of paint and touch up any rough spots, trim and baseboards. Do you have a favourite colour that you'd love to incorporate into your home? Get creative with it! Consider painting a bold-coloured statement wall or getting a fun design. It'll surely help you pass the time.
This is a photo I took from painting the exterior brick of my house "cloud white" by Benjamin Moore last year.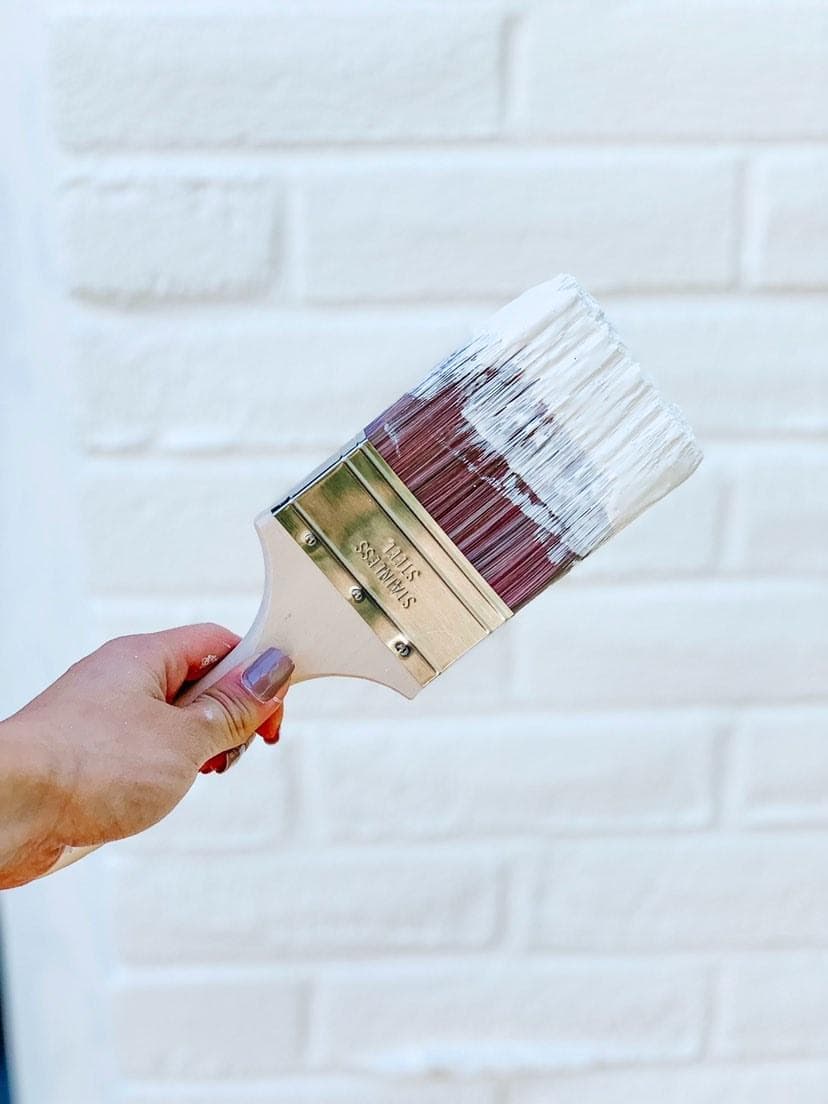 #2 Make Furniture Fun Again:
Out with the old, and in with the new. Do you have worn or loved furniture? Now's a great time to refurbish your old bookshelf and other household furniture items. Give them a good clean and maybe line the back of your shelves with funky wallpaper. Spruce up your kitchen cabinets or bathroom vanities by replacing old hardware with new ones! Alternatively, you can also opt to paint your hardware as I did. I spray painted the handles of my vanity to matte black to match the rest of the bathroom fixtures! Try restaining wooden chairs or repurposing your old lamps. Soon enough, your furniture will feel like new!
#3 Change Your Damn Filter:
Ahh… springtime! I know we always forget or put off our seasonal maintenance routine. With this time off during quarantine, it's the perfect time to check off all of your spring maintenance boxes. Change your furnace filter, adjust your thermostat settings, open your water shut off, and don't forget to check your gutters once they're cleared!
#4 Get Risky:
Wallpaper has made a comeback in the last few years, have you been brave enough to try the new trend yet? Now's a great time to do it! Find funky patterns and textured fabrics to line a statement wall in your house. Interior designers have been introducing them back into model homes and celebrity houses. It's a great way to add some fun and your own personality to the space. Now's the time to take the risk!
#5 Feel Inspired:
Don't have the budget to do home renovations right now? That's ok! It's a great time to feel inspired and put together a Pinterest board of the home renovations you'd like to consider down the road. Save some Instagram pictures and start budgeting for future reno's! Now's a great time to price out how much the renovations would cost you and what renovations take priority. Put together a costs and savings plan and you'll be renovating before you know it!
I hope all of these tips and tricks were helpful and inspired you to do some home DIYs and maintenance. Happy Spring!
-Anna